Google chrome Browser extensions to improve your Google plus experience. All these extensions fills your simple needs like clean css, Facebook and twitter streaming inside Google+, like dislike buttons, Facebook UI into Google+ .
1) Facebook style Theme for Google+: Facebook+ is a new extension for Google Chrome which transforms the look of Google+ and makes it similar to Facebook. Facebook+ is a simple extension to change some of the elements in Google+ to look like Facebook.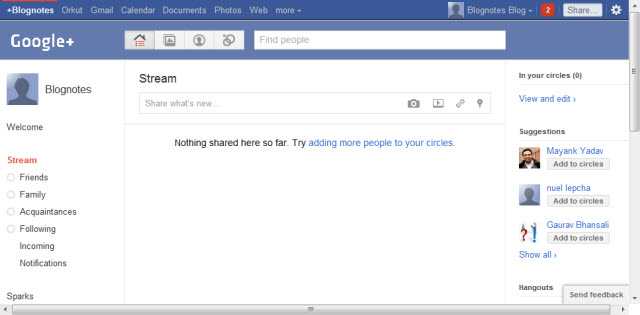 2) Extended Share for Google Plus :  This add-on helps to share Google Plus Posts on other social network Sites. Google+ does not have a quick way sharing your posts to Twitter, LinkedIn and Facebook, this extension will add a link "Share on
" to each post. Once clicked, it will bring up an internal bubble asking you where to share your post.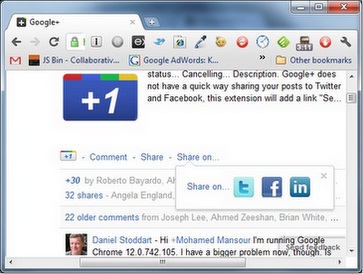 3) Start G+ : This extension helps to put your Facebook and Twitter streams inside your Google Plus. Automatically post to Facebook and Twitter whenever you share something on Google Plus. It also adds a Gmail inbox notifier to the top bar, so that you do not have to keep a gmail tab open. Clicking on the Gmail icon shows a menu with the unread messages that let you access your emails directly inside Google+.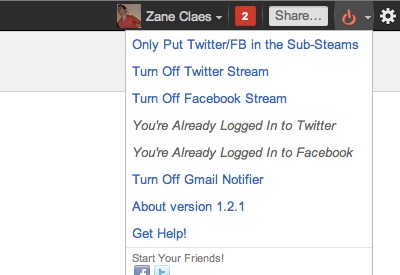 4) Share+ Social Buttons for Google Plus : Similar Plugin like Start G+. This Chrome extension will add a context-link icon below your Google Plus post in order to share your post to some well-known social platforms.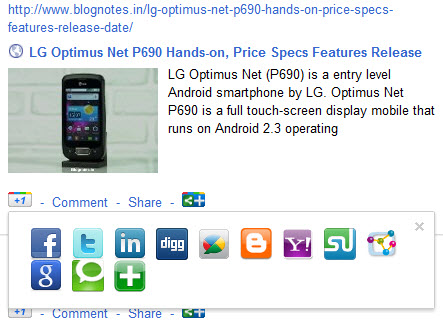 5) G+ Extended : This extension adds some much needed shortcuts for users of Google+.
Press "+" for +1′ing a post.
Press "-" for removing your +1 on a post.
Press "p" to toggle your +1 on a post.
Press "s" to share a post.
Press "e" to expand older comments on a post.
6)  Helper for Google+ : This extension adds twitter and translate link to every Google Plus post. Translate posts with Google Translate to language specified by you.

7) Usability Boost for Google Plus : Google+ layout is simple and elegant. This extension helps to focus on the content, separating visually posts and comments.The Google/Notification bar stays at a fixed position on top so you'll never miss a notification again.